Regular price
Sale price
$25.95 AUD
Unit price
per
Sale
Sold out
Hypro Premium Grain Free Kangaroo And Lamb All Breed Adult Dry Dog Food Is Australian Made Using Quality Natural Ingredients
Complete and Balanced, grain-free nutrition designed to support the growth and development of puppies of all breeds, up to 12 months of age, suitable for whelping dogs.
Australian Made and Owned
The gourmet recipes are produced locally in the Hawkesbury Valley of the Greater Blue Mountains
Each recipe is made using locally sourced Australian ingredients, proudly supporting Australian farmers



Ingredients

Meat meals (turkey, lamb & chicken), Faba beans, Chickpeas, Tallow (beef &/or poultry), Vegetables (including potato, carrot, spinach), Pea protein, Chicken gravy, Oils (sunflower, flaxseed, fish & emu), Beet pulp, Salt, Essential vitamins and minerals (including calcium, phosphorus, potassium, magnesium, iron, zinc, manganese, copper, iodine, selenium, vitamins A, D3, E, K, thiamine, riboflavin, niacin, pyridoxine, pantothenic acid, folic acid, B12), Chicory extract, Choline chloride, Egg, Yucca schidigera extract, Natural antioxidant (including rosemary), Fruits (apple, blueberry, cranberry, tomato), Alfalfa, Kelp 

Guaranteed Analysis

Crude Protein: 32%, Crude Fat: 20%, Calcium (minimum): 1.0%, Phosphorus (minimum): 0.8%, Omega 6: 2.0%, Omega 3: 0.3%, Carbohydrate: 25%

Metabolisable Energy

400 kcal/100g



Holistic Nutrition

The ingredients are unrefined, unprocessed, organic, and locally grown to provide your puppy with holistic nutrition to simulate how they would eat in the wild  
The all-natural ingredients include high-quality Australian meats, omega oils, vitamins and minerals, spinach, faba beans, chickpeas, potato, carrot, spinach, apple, blueberries, cranberries, tomato, alfalfa, and kelp
The formula contains quality meat, vegetables and fruit – ensures your puppy is getting their nutrition from a range of sources the way nature intended
Contains no grains, gluten, GMOS, fillers, preservatives, or artificial colours and flavours

Joint Health

Contains emu oil, sunflower oil, fish oil, and flaxseed which all contribute to good joint health and mobility

Immune Health

Contains superfoods, natural antioxidants, and essential vitamins and minerals to promote a healthy immune system
Contains phosphorus, potassium, magnesium, iron, zinc, manganese, iodine, selenium, niacin, and vitamins A, D3, E, K, B12 for overall health and wellbeing

Muscle Health

Contains turkey, lamb, and eggs which are fantastic sources of quality protein to support lean muscle maintenance

Skin and Coat Health

Contains omega 3 and omega 6 fatty acids to promote a shiny coat and healthy skin

Hypoallergenic for Sensitive Canines

Hypoallergenic, grain free and gluten free - great for sensitive puppies

Digestive Health

Contains beet pulp, yucca schidegera and healthy sources of fibre from fruit and vegetables, to support digestion  
When your puppy is fed nutrient dense food, they will absorb more nutrients, meaning you can feed smaller portions, resulting in firmer stools of lesser quantity 

Energy and Vitality

Contains high quality, slow-releasing carbohydrates from potatoes, carrots, chickpeas, and faba beans  

Designed for Puppies

The small, bite-sized kibble makes it easy for puppies to chew and digest
Feeding Guide
1 cup holds approx. 120g of kibble
The feeding guide represents the daily feeding amount; however, you can split the daily amount into separate meals
The feeding guide is representative of your puppy's predicted adult weight and current age
Adjust feeding amounts as necessary to maintain optimal weight
If feeding Hypro for the first time, gradually introduce the food to your puppy's diet over a period of 7-10 days
Always ensure clean fresh water is available for your puppy
Dog Weight

Puppy Age

2 -3 months

3 – 6 months

6 – 9 months

9 – 12 months

<5kg

Up to 100g

Up to 120g

Up to 100g

Up to 100g

5 – 10kg

80 – 170g

105 – 200g

120 – 200g

100 – 160g

10 – 20kg

140 – 290g

170 – 330g

200 – 330g

200 – 260g

20 – 35kg

230 – 430g

290 – 500g

330 – 500g

330 – 490g

35 – 50kg

330 – 490g  

430 – 650g

500 – 655g

500 – 650g
Share
Shipping & Returns

We ship within 1-2 business days. Shipping order above $100 is free in Australia. Free returns within 14 days. Read our shipping & return policy
Ask us...

Have any questions? Reach out to us at hey@barkroad.com.au
View full details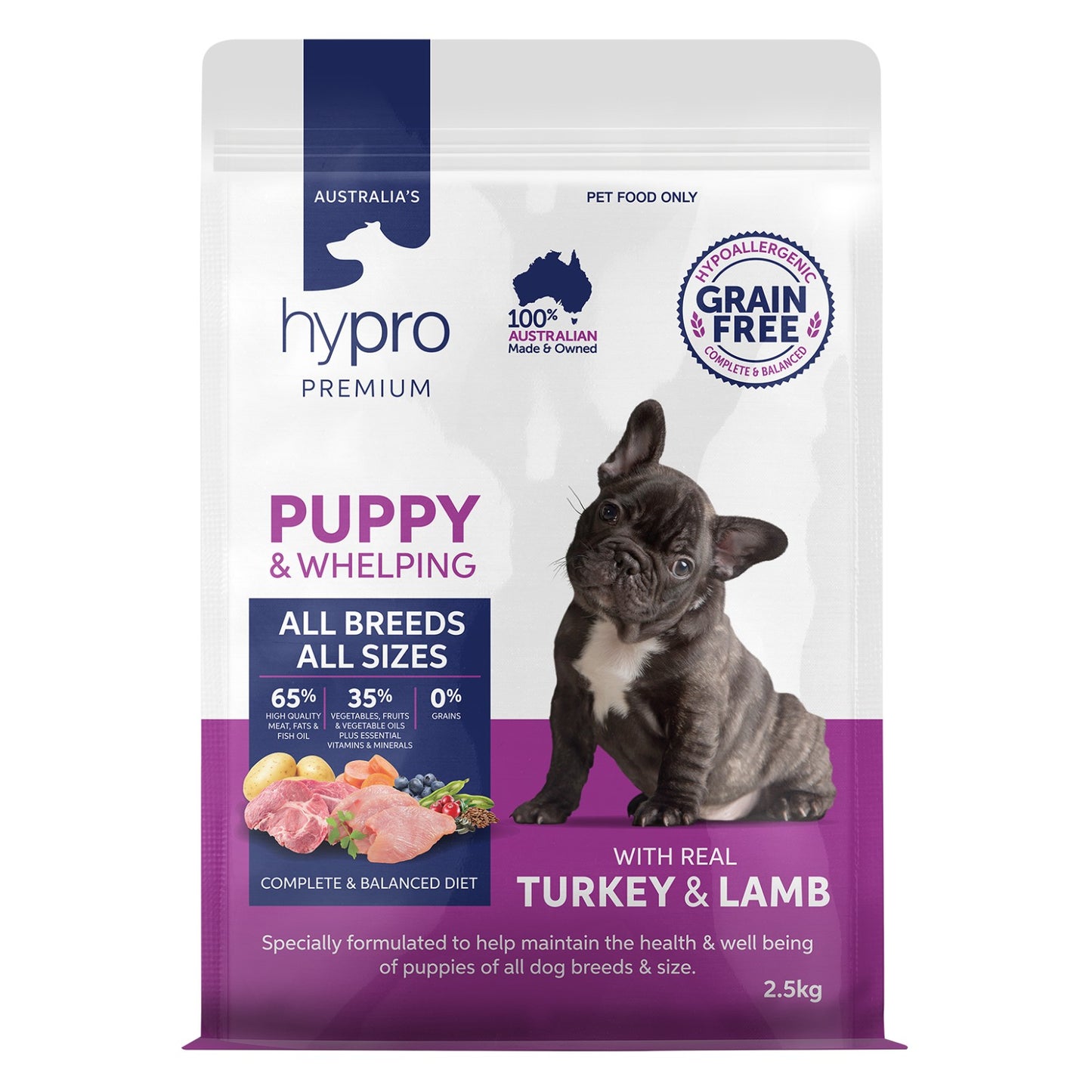 Life's too short to turn down good times with our furry friends.